Chelsea caretaker manager Frank Lampard must find a solution to strengthen the right side of his team's defence to have any chance against Real Madrid.
Blues goalkeeper Kepa Arrizabalaga said Chelsea have a plan to stop Vinicius Jr., who caused a lot of problems for them in the first leg.
Real Madrid's Eder Militao, however, doubt Chelsea or any team could do that.
"He's one of the best. Almost impossible, because he doesn't stop running," the centre-back said on Monday's pre-match press conference when asked about Vinicius.
Real Madrid have other attacking threats, obviously, but Vinicius is key to Ancelotti's plans.
According to Opta, 44 percent of Real Madrid's attacks in La Liga this season were from the left side, which is the highest in the league.
It is 43 percent in the Champions League, the second-highest in the competition, just below Dinamo Zagreb.
It is, therefore, pretty clear how much Real Madrid rely on Vinicius.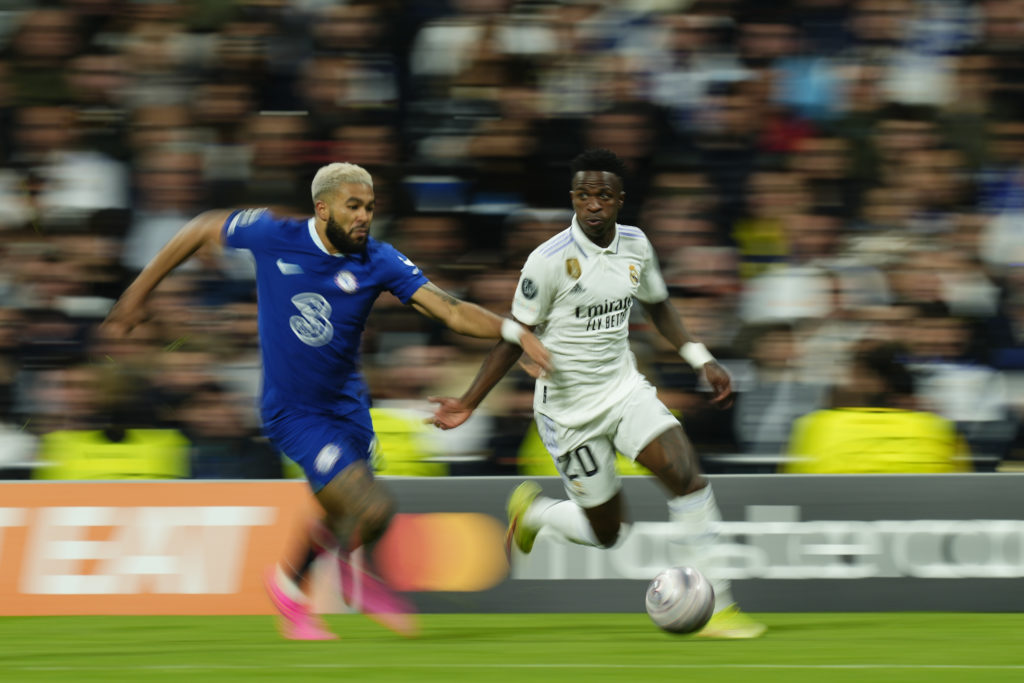 In the first leg, Reece James had a very poor game for his standard and Wesley Fofana was often the one having to deal with Vinicius, and we all know how it went.
But even if James had played as well as he normally does, he would likely still had a hard time defending against Vinicius.
Carlo Ancelotti mentioned how he used his right back Dani Carvajal to pin Ben Chilwell back on the other side of the pitch and this was also the case with Eduardo Camavinga on the left.
Lampard could solve this issue by playing a back four instead of a back three.
It seems counter-intuitive to remove a defender to strengthen a defence but by playing as a right fullback, James can focus more on his defensive duties.
Meanwhile, a right winger should be responsible for dealing with Camavinga's overlapping runs.
In addition to that, Ben Chilwell's suspension also means there is less incentive for Chelsea to play with wing-backs formation.
Marc Cucurella is not as comfortable as the England international in operating in the final third, so deploying him as a left-back makes the most sense.
Keep up to date with all the latest Chelsea news and opinion by following The Chelsea Chronicle's Facebook and Twitter accounts.
Related Topics
MORE CHELSEA STORIES