Thomas Tuchel should prioritise tweaking his front three for Tuesday's match against Leicester City as Chelsea could potentially hit another wall offensively.
The German is expected to make at least a few changes. But he might want to pay more attention when picking his attackers.
Despite the FA Cup final defeat on Saturday, Chelsea arguably did very well defensively.
Neither Jamie Vardy nor Kelechi Iheanacho — Leicester's biggest attacking threats — managed any shot on target at Wembley.
Youri Tielemans' outstanding strike eventually made the difference, but as Tuchel argued, it was a rather unfortunate goal to concede.
The Blues did not do so well on the other end of the pitch, however.
As we have previously discussed, Timo Werner and Hakim Ziyech — Tuchel's counter-attacking weapons — struggled against Leicester's disciplined defence.
Brendan Rodgers expects another cagey battle
Having already said that they would depart for Stamford Bridge with "the same idea", Rodgers has hinted that he would opt for a similar defensive strategy.
"I think it will be tactically the same," Rodgers said about what he expects from the trip to Stamford Bridge in his press conference on Monday.
"Two teams super organised — it's going to be a tight game. I think that's the beauty of it.
"Maybe neutral [fans] were looking for 5-4 in an FA Cup final. But two teams pressing, organised, not so many chances in the game and then eventually moments of quality from Youri [Tielemans] and Kasper [Schmeichle] allowed us to win the cup.
"If it's the same tomorrow night, I'll be really pleased."
Werner should not lead the line for Chelsea
Considering the performances in the FA Cup final, Werner would be the first player that Tuchel might want to consider dropping.
The Germany international simply had a hard time to perform against Leicester's deep defensive line. Unsurprisingly, the striker failed to make any shot on target or any key pass in the 82 minutes he was on the pitch.
Even if Tuchel deems Werner's energy and constant counter-attacking threats way too crucial to the team, the 25-year-old should at least play a deeper attacking role instead.
Kai Havertz, who is more comfortable operating in tight spaces, should be an obvious replacement option. Or even any of the natural No.9s; Tammy Abraham or Olivier Giroud.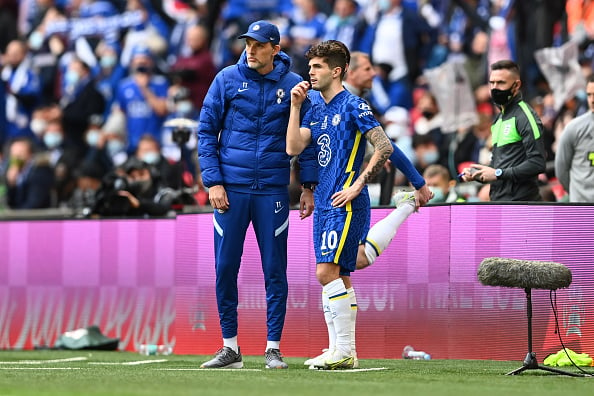 Pulisic instead of Ziyech?
Christian Pulisic could be an interesting addition to the line-up as well.
Tuchel admitted that he decided not to start the American at the weekend due to injury risk management reasons. But with the top-four hopes at stake, this might be the time to take all the risks.
The 22-year-old does not possess Ziyech's playmaking ability. However, his directness would allow Mason Mount to play more centrally and arguably add more balance to the team.
Have something to tell us about this article?
Let us know